Communication plays a key role in any successful organisation. In order for an organisation to navigate towards the same common goal, there needs to be a shared understanding of this goal. The better the understanding, the better targeted the organisational efforts are. Now, if the results are something different than expected, it raises important questions. Did the communication reach all those it was intended to reach? Was the communication understood in the right way?

Communication has always reflected the structure of the organisation
The splintered structure of a busy work day combined with the distributed workforce means that today's working environment is anything but ideal for communicating in traditional ways. It is very difficult to gather a large group of people in to the same place and at the same time, in order to deliver an important message. How often is one-to-one or direct communication even possible?
Traditionally, this would mean a Town Hall type of meeting where everyone has the opportunity to make sure that the audience understands the message in the right way. It represents a huge challenge for any modern organisation just to set up this kind of real-time communications channel over and over again. The overhead for arranging the platform for important news is very high.
What is the next best thing to having a face-to-face –dialogue? How can you make sure the person listens to your message and understands what you are trying to explain?
Enter the optimal aspects of digital communication:
a visual medium for storytelling
unlimited number of recipients
unlimited number of story replays
mobility, regardlessof time and locations
In essence, that is what an online video platform and mobile app enables. Furthermore, an online video platform equipped with insightful statistical information about the video reception can help anyone to become a better communicator. Why is this important? Statistics provide the storyteller a concrete measurement of impact that a particular video has made inside the organisation. It also works as a benchmarking tool in practicing how to become a better communicator by analysing past video performance. This allows the presenter to fine-tune his or her video production and performance after reviewing the statistics. For example, a communicator has better information about how to balance the amount of information and narrative elements by comparing the success of different types of videos. In addition, he or she can learn how to crystallise the essential message to 'easy to digest' and 'easy to remember' type of insights.
How do you improve the impact of online videos?
At the level of organisational communication, we can call it communication architecture. Statistics provide better tools for finding the optimal mix of internal platforms where the video content is shared. Internal platforms can be, for example, intranet, extranet, mobile apps or embedding in an email for example. What used to be a black box, can now be tested, quantified and evaluated – for better operational efficiency.
To sum up, online video statistics are a practical tool that enables the further development of online video communications based on solid information. Firstly, we have the level of an individual communicator and secondly there is the level of organisational communication architecture. As a particular feature, statistics have been one of the most anticipated improvements in Dream Broker Studio. We are extremely excited to introduce a complete set of statistical tools, called 'My Impact' and 'My Activity', for all Dream Broker Studio users.
The administrator user has a access to a detailed view of all activities within their Dream Broker Studio license. On an even higher level, key performance indicators can be monitored at a dashboard level from a view called 'License Activity'.
More importantly, the administrator has the perfect opportunity to identify and replicate the most engaging content from less engaging one, identify trends or patterns over time. Not to mention distinquising between active users and passive users. The difference is also easily seen in the performance of platforms in which the videos are published, such as mobile and desktop, for instance. Statistics is a great tool in increasing your impact, fine tuning your video strategy and reaching out in the peak times.
---
Learn more how Danish Prison and Probation Service uses statistics to monitor how their instructor class training videos are being viewed before the exams.
Online video and an online video platform offer the benefits of delivering potentially complex and detailed information in a standardised and scalable way.
The aim is to deliver information in an engaging, inspiring and personal way – while at the same time making sure that everyone receives an identical message.
---
Read how online videos can be used in organisations.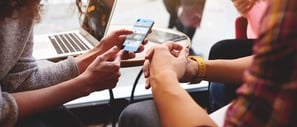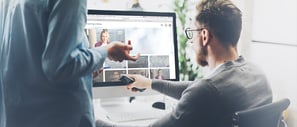 Share this page in Facebook, LinkedIn and Twitter.